【Auberge TOKITO: Newsletter Vol.2】                                                       Guest experience in Auberge TOKITO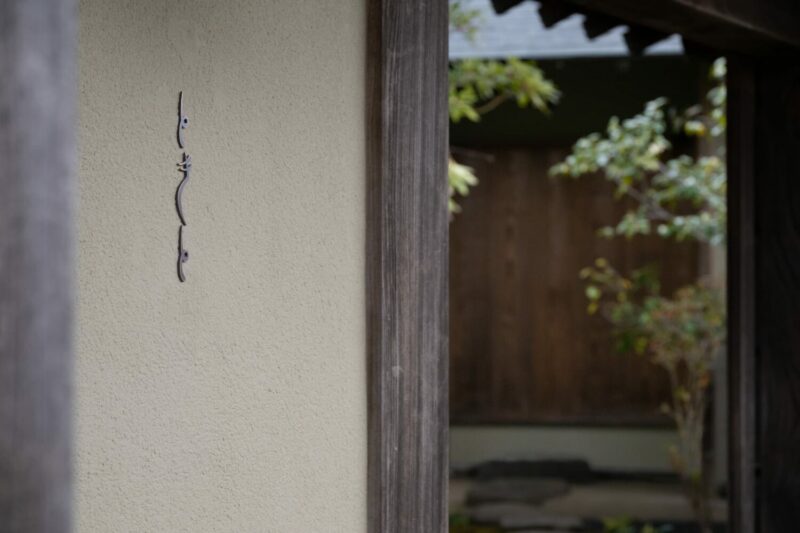 Four months since the opening of Auberge TOKITO in Tachikawa, Tokyo, we would now like to give you a feel for the guest experience.
Just 30 minutes from Shinjuku, Tokyo, if you strain your ears, you might be able to hear the sound of silence as you begin your experience in awaiting calm and serenity. Roughly 70 species of trees grow luxuriantly in the well-tended garden. The staff who welcomes you explains, "When creating the garden, rather than planting trees for the sake of the tea room, we planted trees in hopes of growing a forest that protects the community, which follows the same line of thought as Mumon-an, the former long-established restaurant on which our auberge was built."
TOKITO is built on the concept of an auberge where chefs entertain guests. This garden alone clearly shows the spirit of arranging first-class craftsmanship. TOKITO cuisines are brought to you by chefs, including our executive chef, who have held positions of responsibility at Michelin-starred restaurants in Japan and overseas.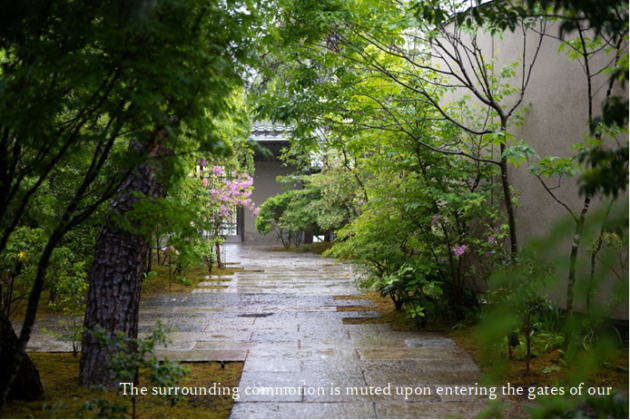 In their careers, the chefs cultivated not only their culinary skills but also their eye for beauty in top-class craftsmanship of the tableware, furnishings, and garden.Our auberge is largely divided into the shukubo guest room, sabo tea room, and shokubo dining room. Staying with us gives you access to all three facilities. You first check in to theshukubo guest room.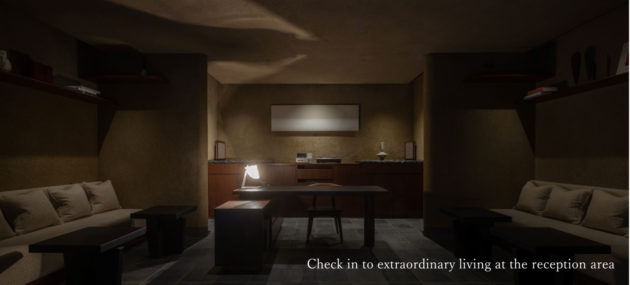 You are welcomed into the waiting room with subdued lighting, vacuum tube amplifiers, and records. You are offered a welcome drink selected by the sommelier according to the weather and season.
Beyond the copper door that has been weathered by time are merely four guest rooms with a tranquil tea ceremony room-like ambiance. The 100-square-meter space speaks for itself. Beyond the agarikamachi step running along the front edge of the entranceway made from a stunning single slab of aged wood is a tatami room furnished with a low bed. The room is adorned with a collection of premium furnishings, including precious horsehair mattresses and fine count linen bedspreads used in luxury bedding in Europe.
You open the kitchen drawer and find tea cups and rice bowls handcrafted from clay by Executive Chef-Producer Yoshinori Ishii. Inscribed on the bottoms of the wares is the word Tanagokoro, meaning 'palm'.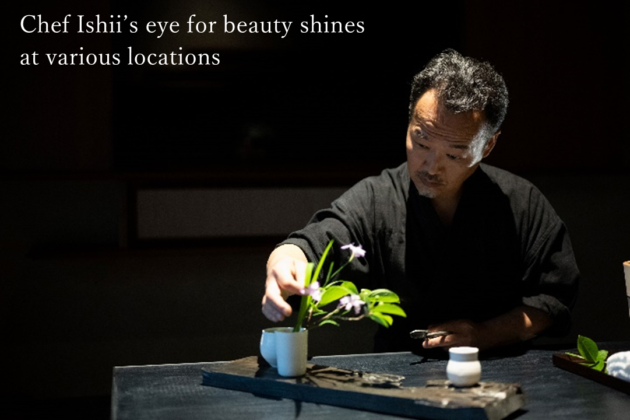 Craftsmanship meant to make people happy goes into the production of cuisines and tableware. The chefs who selected those handcrafted items understand the significance of such handiwork, and you can feel the warmth of people's hands in the items that you see furnished here. While winding down with sweet and savory Sayama Tea, you hear a knock on the door by none other than Chef Ishii. "I've brought you some tea treats," he says. In his hands are an earthenware pot with lily bulb matured and sweetened during the winter and cooked to perfection. With no sugar added, you can taste the sweetness refined by the earth and climate of Japan.
When you soak your body in the free-flowing hot springs in your room, you become aware of how surprisingly cold your body is. The silence gives you an opportunity to listen to your body's voice, which had gone unnoticed. The stay comes with a 20-minute trial retreat, which you have requested right after check-in. After finishing your tea, you relax with a treatment by TOKITO's veteran therapist Takuko Yamamoto who has a 20-year career under her belt. You may have come across therapists who are so good at finding the pressure points that you think they have eyes on their hands, and Ms. Yamamoto definitely has that gift. You engage in a light-hearted conversation and get some advice on daily living habits based on her experience. You are reminded that this human interaction and treatment are craftsmanship created by hand that can never be replaced by artificial intelligence.
Inside the refrigerator in the guest room are beautifully cut fruit and local Tachihi Brewery beer produced by Tachihi, which runs Auberge TOKITO, homemade ice cream presented in artisans' ceramicware, and more. You discover tastes only available here, made possible by the chef's uncompromising commitment.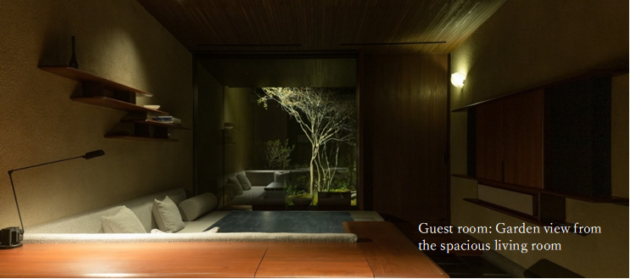 While you spend time in your room, you notice that the sofa and other furnishings are lower to the ground than normal. A sense of calm surrounds you as the building offers the perspective of the traditional Japanese lifestyle of sitting on tatami mats.
From long ago, Japanese people have valued harmony and lowering one's point of view, as exemplified in bowing, to show respect to others. Here, you can enter the tea room through a crawl-in entrance, which puts you in contact with nature from an uncommon perspective that is reminiscent of the submissiveness to and reverence for nature that Japanese culture has naturally embraced.
Respect for nature is one of the ideas that is strongly rooted in TOKITO. A rock garden was made with the garden rocks from Mumon-an, and the old tree that had to be cut down was remade into dessert plates instead of being thrown away. These painstaking efforts show the auberge's compassion for life. The dishes based on the regenerative concept of meguru megumi show the spirit of being rooted in the land and creating food that is circulated here; for instance, the soil from the area and ashes from burned used chopsticks are used as glaze for the ceramicware.
Now, you are at the sabo tea room where you enjoy a moment before your meal with an aperitif of teas and cocktails. The room inside with a sunken hearth and carefully brewed tea heightens your expectations for your dining experience.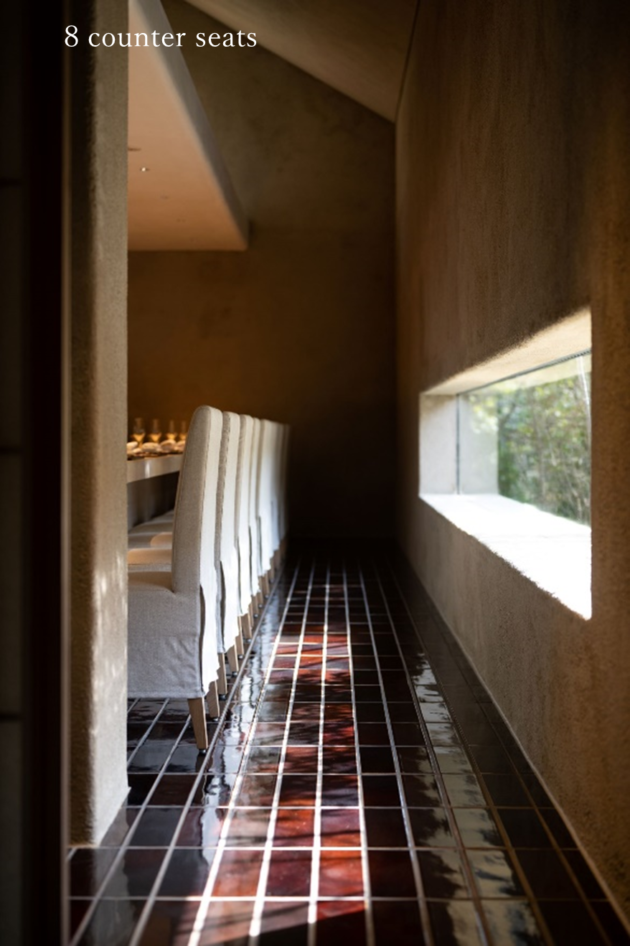 At the shokubo dining room, you are shown to the counter seats prioritized for staying guests. The host has run around town to round up ichigo-ichie once-in-a-lifetime ingredients that are prepared ingeniously for the feast. Just as the tableware are made from the soil, the concept of making everything from scratch is clearly present in the handmade condiments, such as koji malted rice flavored with soy sauce and the sanmi togarashi chili peppers, a unique blend of three spices rather than the standard seven-spice shichimi togarashi.
Executive Chef-Producer Yoshinori Ishii trained at a famous three-star Kyoto kaiseki restaurant in Kyoto before going abroad. At UMU in London, he served as the executive chef and earned the first two-star rating in Europe for a Japanese restaurant. It is difficult to find Japanese fish in Europe, so Chef Ishii visited local fishermen and taught them the shinkei jime technique of cleaning fish.
With a 20-year career abroad where he came across worldwide flavors, Chef Ishii is willing to delve into cooking starting with the ingredients. Also, General Manager and Grand Chef Kenji Okawara, who served for a long time as the head chef of a Michelin two-star Japanese restaurant in Hokkaido and prepared dishes for the heads of states at the Hokkaido Toyako Summit, has abundant connections with producers not only in Hokkaido but across Japan.
The experiences of these two chefs are fully demonstrated in the ebb and flow composition of the course. Just when you thought Chef Ishii tells you, "We have good botan shrimp today" and serves you botan shrimp freshly cleaned at the dining room and purposefully served without any seasonings, Chef Okawara brings you smooth-textured tuna that he seared, and Head Chef Hiroki Hiyama who trained at Italy's Michelin three-star Da Vittorio serves you a savory dish of piping hot fond de veau sauce made by carefully extracting the jus from veal bones right at the shop garnished with horseradish ice cream to give you a hot and cold sensation in one dish. The course is composed of dishes that are ingredient-centric as well as those that highlight the effects of spices and temperatures. At any rate, you are there to enjoy what is available on the day, prepared in ways to bring out the best in the ingredients.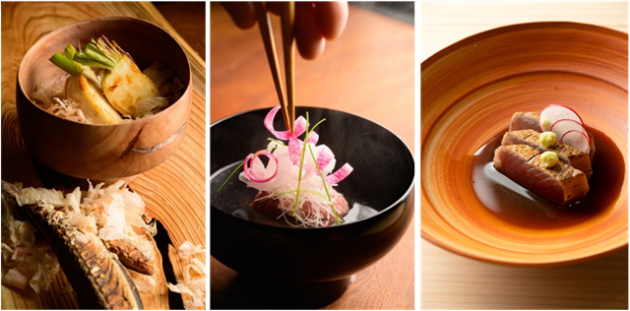 Special mention goes to the level of refinement of the overall taste. While grounded in the flavors of traditional Japanese cuisine, the meal satisfies the palates of international guests. For instance, the sea urchin rice bowl arranged as the Artisan Chef's Sushi, is ginger rice cooked perfectly timed and seasoned with balsamic vinegar and wine vinegar to make sushi rice, which is customarily made with rice vinegar. Ezo abalone fried with butter is mixed in to draw out the flavor of the exquisite sea urchin that is generously topped on the rice. With this refined sense of balance, the chefs create courses in the name of today's Japanese cuisine even when they add essences of Western gastronomy.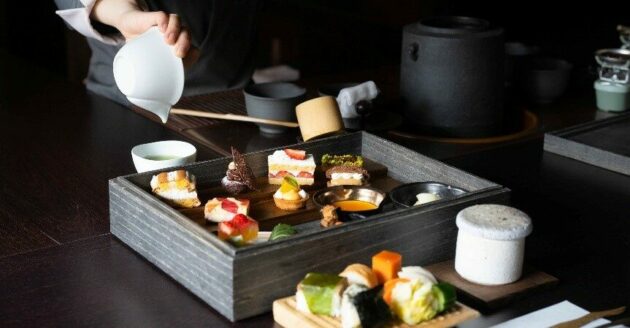 If you would like to experience our auberge more casually, we recommend you to visit us for afternoon tea at our tea room. The Japanese tea ceremony's ichigo-ichie spirit of making the most of every moment can be felt at our afternoon tea. TOKITO's cakes and sweets are handmade with none of it being frozen or stored ahead of time so that you can enjoy freshly made treats. Some guests ask, "Are you sure you're charging enough?" Mr. Ishii laughs, "That's something I just can't compromise." There you can see the spirit of a distinguished craftsman. You are invited to come for a warm experience crafted by hand.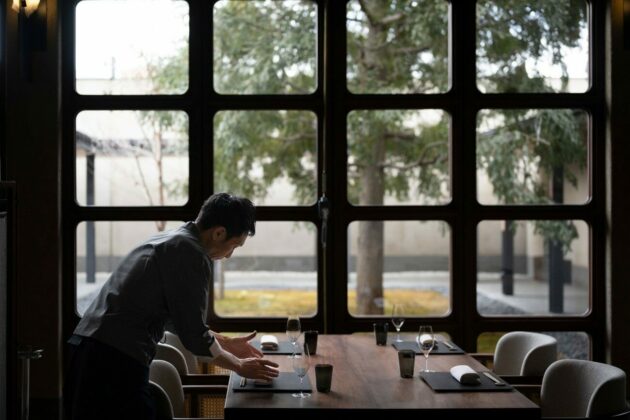 Priority is given to guests staying at the auberge for counter seats but is open to visitors just for dining if seats are available. The dining room can be used for both lunch and dinner even without overnight stays. The chef completes the presentations of the dishes right at your table, so although casual, you can experience the charms of relaxed dining during our meals.
Auberge TOKITO
1-24-26 Nishiki-cho, Tachikawa, Tokyo
Approximately 10 minutes by taxi from the JR Tachikawa Station